Latest CCSA News
---
More News
---
CCSA in the News
April 12, 2021

|

Canadian Centre on Substance Use and Addiction
March 8, 2021

|

New alcohol drinking guidelines planned for 2022 [CCSA interview]
January 15, 2021

|

Ottawa Citizen
---
All CCSA in the News
The Evidence
You've found The Evidence, a new monthly podcast created and produced by the Canadian Centre on Substance Use and Addiction (CCSA).
Hosted by Lee Arbon, Amanda Deseure and Victoria Lewis, this new series dives into the leading research and current trends surrounding substance use and addiction in Canada. We investigate and review the evidence on alcohol, cannabis, opioids, stigma and more. Each month, The Evidence features guests from CCSA or those working in the community. We combine CCSA's knowledge and evidence with people who face substance use disorders every day in their personal and professional lives. We converse with people in health care about the medical challenges of substance use and addition. We learn from people with lived or living experience. Their knowledge inspires our conversation.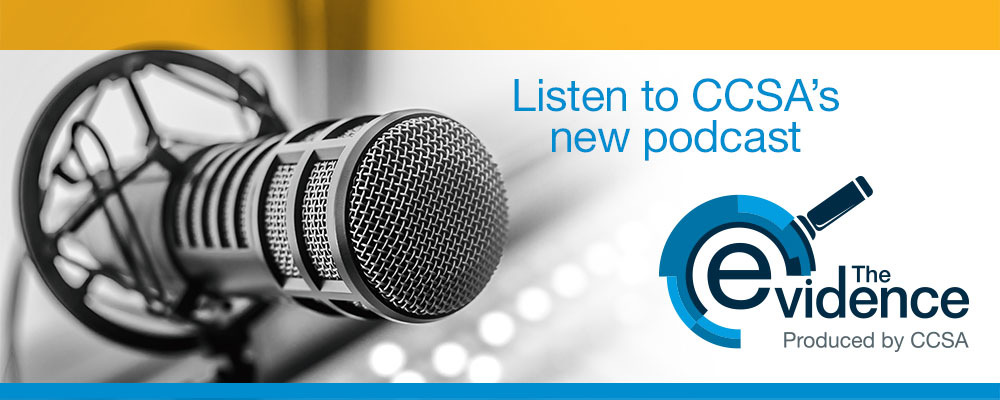 More Episodes
Addiction News Daily
Addiction News Daily is CCSA's news service; a co​​mpilation of stories pulled from various sources and focusing on topics con​cerning alcohol, drugs and their related harms (including alcohol and drug​ preventi​on, treatment, recovery and addiction, and substance abuse policy and political ​di​alogue)​. Th​​e stories are chosen for their potential interest to Canadians and are of national significance. The opinions expressed in Addiction News Daily stories are not necessarily those of CC​SA.
More about Addiction News Daily
CCSA is excited to offer you the opportunity to sign up to receive news and publications on topics in which you have an interest.
---
September 7, 2023

|

Canadian Centre on Substance Use and Addiction
June 20, 2023

|

Healthcare Excellence Canada 
---
More Addiction News Daily